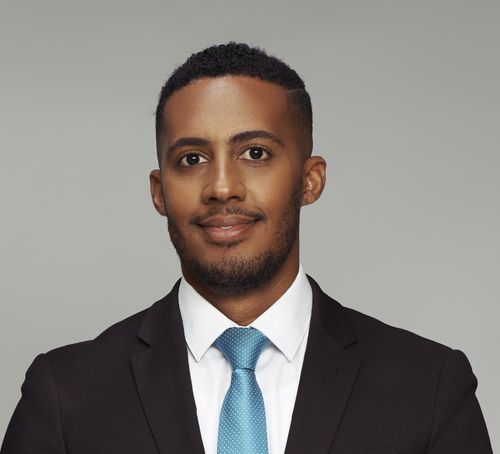 Dário Camal
Continental Secretary General and Country Representative of Mozambique
,
African Youth for Development Commission -AYDEC
Born in Maputo, Mozambique, Dário Abdula Camal is a Young Pan Africanist, current member of the first and historic Youth Advisory Council of the African Union Commission appointed by the President of the African Union Commission for a 2-year term. Dário Camal, became one of the youngest diplomats on the African Union commission, serving and advocating the interests of the African youth. Camal is part of several important international platforms, such as the African Youth Development Commission (AYDEC) where he is Secretary-General and Representative of Mozambique, he was also appointed for a 2-year term as chairman of the Committee in the Commonwealth Youth Council (CYC), a platform that includes 1.3 billion young people.
Dário is an activist of modern times and a leader shaped for the future. He has carried out several programs and initiatives with a direct impact on education, climate change, peace, security, justice and health. Always in line with the objectives of Sustainable Development and Agenda 2030 and 2063 "Africa we want".
Camal is also a mentor to more than 1500 young people from 70 countries for several Mentoring programs. Camal has travelled in the past 5 years to more than 124 countries. He defends the causes of youth and youth empowerment and has earned several international awards.
As of July 2020, Camal has more than 37 international awards distributed on all continents except Oceania, where the following stand out, for example:
LYONS Mahatma Gandhi Award 2020, Bangladesh Global Youth Awards 2020, Pan African Youth Foundation 2020, 100 Most Influent Young Leader, 100 Most influential Young Leaders 2018 under 35 years according with UK Government. MIPAD Most influent Person African Descend 2019 according to United Nations. African Young Achiever of the Years 2018/2019. Afro-Arab Young Leader of the Year 2018. Afro-Arab Young Leader of the Year 2019. Qatar Youth Awards 2019, Pan African Youth Achieve of the Yeard 2018/2019. Sustainable Development Goals Awards 2016/2017/2018/2019. Red Diploma for best student abroad 2015. 2019 Ten Young African Changemakers by YouthhubAfrica, 2018 List of Formidable Man Leading Change, 2017 Young Talent Of The Year By UNLEASH, 2016 Listed in 100 under 40 Most Influential Afro-Arabs in the world.
Other platforms that Dário Camal currently serves as a board member: United Nations Youth, SADC Youth, the BRICS Youth Energy Forum, or the World Federation of Democratic Youth, Camal is part of the new generation of thinkers and the new wave of young African leaders who are inspired by the future of the continent and the world.
Camal is fluent in Portuguese (native), Russian, Spanish, English, French, Italian and Arabic.
A nationalist and Africanist by nature, Dário is a staunch defender of the causes and moral values ​​that must govern a healthy society, focused on collective development and the well-being of societies, trying to contribute so that inequalities between people are minimized to the maximum. For that reason, he was an activist and volunteer at several renowned institutions, such as the International Red Cross, Greenpeace, Save the Children International, UNICEF, with emphasis on Macmillan Cancer Support, where he was appointed honorary Goodwill Ambassador from 2012 to 2015, in the fight against cancer.
Dario, has written several articles and has several public appearances on national and international TVs, is also known as an author and writer and has two books published in Portuguese: "Unconditional Love" and "The Secret Formula for Success".